About
About Unplug At Camp
With the growing popularity of the internet, cell phones, social media, cable networks, diabetes, unplugging is a hot topic among many. Unplug at Camp serves as a resource for anyone interested in the effects of modern technology on youth. Unplug is also an advocate for summer camps, promoting their positive impact on childhood development. Created by a camp director and a former camper, Unplug at Camp hopes to ignite discussions and provide insight, helping reveal why the "disconnect to reconnect" philosophy is vital to a child's development.  Unplug at Camp will discuss the topic of how today's youth are so plugged in.
The average child spends 7 ½ hours a day in front of a screen.  Summer camp is unique because children have an extended stay in an environment that forces them deal with the effects of being "tech free."  At the same time summer camp is an environment that fosters social growth.  Children at camp are forced to revert to natural, basic human communication. Unlike online environments, kids are monitored by professionals and adults. Exercise, fresh air, and socializing with peers are all a major focus of summer camps. While social media sites may  foster social growth, it is the specific intent of summer camps to concentrate on youth development.
About Dan Weir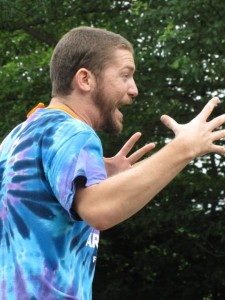 Dan Weir has 15 years under his belt working at Frost Valley YMCA, progressing from a junior camp counselor to his current position, Director of Camping Services.  He now oversees 2500 campers and 250 staff that attend Frost Valley YMCA's overnight summer camp programs.  In 2008, he volunteered for Global Camps Africa spending several weeks at Camp Sizanani in South Africa. Dan has his Masters' Degree fromStony Brook University specializing in youth development and technology affecting youth, and his Bachelor's Degree from George Washington University in Psychology.  He is the Vice Chair for the 2012 Northeast YMCA Camp Conference and on the Program Committee for the Tri-State Camp Conference.  Dan has spoke at the 125th YMCA Camping Celebration, the Tri-State Camp Conference, and the Northeast YMCA Camp Conference on the affect technology is having on youth and summer camp.  He is a host on the CampHacker, a bi-weekly podcast for summer camp professionals.
You can follow Dan at DanLovesCamp.com, on twitter @danlovescamp, or send an email to danielweir@gmail.com.
About Kate Bosco
Kate Bosco is a graphic designer and illustrator living and working in Philadelphia, specializing in brand identity and web design.  Kate can be found at KBoscoDesign.com and or by email at kate@kboscodesign.com.